Nettle Meadow Farm was originally founded in 1990 and is located in Thurman, NY, just below Crane Mountain in the Adirondacks. The cows here are reared on organically-grown grain and hay, plus an assortment of herbs growing around the farm. Kunik is their triple cream made from goat's milk and jersey cow cream. Under the bloomy white rind is a rich, tangy paste with an amazing buttery flavor.
Product Details:

Size: 4 OZ
Country of Origin:

United States of America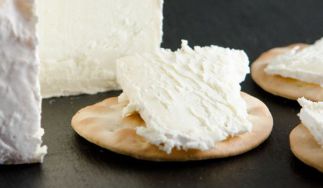 Located in Thurman, New York, Nettle Meadow Farm has been owned by Shelia Flanagan and Lorraine Lambiase since 2005. The name "Nettle Meadow" was inspired by the presence of wild nettles and herbs in the field where their herd of goats grazed. Today Nettle Meadow is home to over...
Learn more about Nettle Meadow Farm