More About This Product
One of the first California stone fruits to show up in our area, apriums are a 75% apricot/25% plum hybrid with dense golden flesh and a smooth yelllow or orange skin occasionally blushed red. The meat is very sweet with a mango-like texture. Frog Hollow Farms picks only fruits that are fully ripened and ready-to-eat which suits the aprium just fine. They are the one stone fruit that won't ripen more on the counter if picked immature. Baldor receives all Frog Hollow stone fruits within 24 hours of harvest.
Product Details:

Size: 16 X 1 LB
Country of Origin:

United States of America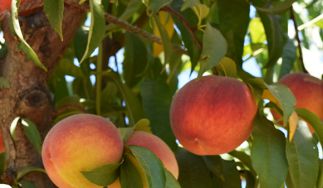 Frog Hollow Farm is a thriving 242-acre organic farm located in Brentwood, California. The farm is home to hundreds of trees which produce peaches, nectarines, cherries, apricots, apriums, plums, pluots, Asian and European pears, olives, persimmons, quince, apples and more. Typical harvest begins...
Learn more about Frog Hollow Farm
Product Unavailable
Select a Substitute item below
FROG HOLLOW FARM
Organic Honeyrich Apriums
ZAPR23