More About This Product
Maywood Farm is a highly regarded fig grower in northern California producing the best tasting figs this side of the Atlantic. Their fruits have an intensity that reminds one of Italy in August.
Black Mission Figs are small and tear- drop shaped with light red meat inside along with tiny seeds. Black Missions are more compact than Brown Turkeys - not as fleshy and melting. They are a great fig to grill in summer, naked or wrapped in pancetta slices. Roast and place on pizza, sliver and saute with shallots, then toss with goat or blue cheese crumbles. Black Missions are also the most frequently used fig for drying.

Product Details:

Size: 8 OZ
Country of Origin:

United States of America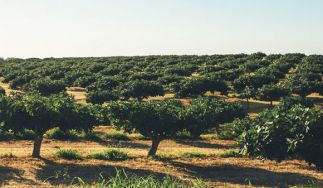 Maywood Farms is a family owned and operated organic fig farm in the agricultural valley of beautiful Northern California. Bob Steinacher started Maywood Farms in the early 1980's, and in 1989 his wife Karen jumped on board to manage the farm's production operation. During harvest, Bob...
Learn more about Maywood Farms