Ken and Eileen Farnan of Buzzard Crest Vineyards grow grapes on their 37 acre vineyard in the Finger Lakes region of N.Y. State. Their Somerset grapes are an early maturing variety that usually lasts into November. The clusters are compact and medium sized and the grapes are small, ripening to a pretty orange-red tone. They are one of the best eating varieties with wonderfully sweet, strawberry-like flavor. Great for snacking and making juice or jelly. Somersets are not slip-skin like Concord grapes.

Product Details:

Size: 8 X 2 LB
Country of Origin:

United States of America local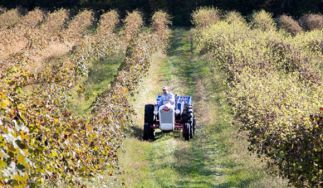 Since 1971, Ken and Eileen Farnan have been growing organic grapes at their small vineyard in the Finger Lakes region of New York and making wine from them at nearby Barrington Cellars. In addition to wine grapes, the Farnans grow spectacular Concord, Mars, Niagara, Lakemont, Canadice and other...
Learn more about Buzzard Crest Vineyards