More About This Product
Attractive, personal-sized melons flecked with splashes of green. The interior meat is pure and snow-white. Snow Leopard melons taste more cucumber-like than melon-like with a crisp, firm texture. Great for salads; enjoy simply with a squeeze of lime.
Product Details:

Size: 7-8 CT
Country of Origin:

United States of America local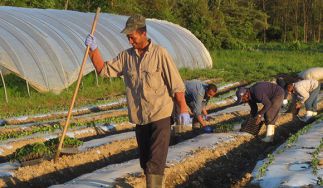 After working in the dairy division at Cornell Cooperative Extension for six years, Zaid Kurdieh and his wife Haifa decided to open their own certified organic farm in 1998. Starting with just a half acre behind their house, their vision of supporting the community has become a reality and now they...
Learn more about Norwich Meadows Farm
Product Unavailable
Select a Substitute item below
NORWICH MEADOWS FARM
Organic Snow Leopard Melons
ZME9D