More About This Product
Here is one of the finest plums you will ever sink your teeth into. A freestone plum, the Emerald Beaut is a delicate green that turns golden with a hint of a blush. It has a firmer texture than the Santa Rosa with a crisp almost crunchy mouthfeel that is reminiscent of pluots. One of Frog Hollow Farms' most hardy fruits, the Emerald Beaut gets sweeter and sweeter without losing texture as it ages. They are available mid to late September.
Product Details:

Size: 1 LYR 8 LB
Country of Origin:

United States of America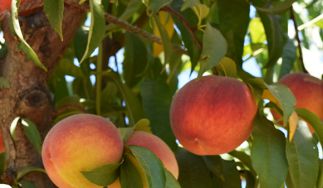 Frog Hollow Farm is a thriving 242-acre organic farm located in Brentwood, California. The farm is home to hundreds of trees which produce peaches, nectarines, cherries, apricots, apriums, plums, pluots, Asian and European pears, olives, persimmons, quince, apples and more. Typical harvest begins...
Learn more about Frog Hollow Farm
Product Unavailable
Select a Substitute item below
FROG HOLLOW FARM
Organic Emerald Beaut Pluots
ZPL5E