La Belle's Cornish Cross Poussins are raised on their special group of farms in Sullivan County, New York. They're grown for 34 weeks in large arena-style coops, with plenty of room to exercise and roam freely. Their antibiotic and hormone-free poussin are known for great flavor, leanness, and more tenderness than found in commercially raised birds. Bella's birds are also air-chilled to preserve cleanliness, flavor, and texture.
Product Details:

Size: 2 X 16-20 OZ
Country of Origin:

United States of America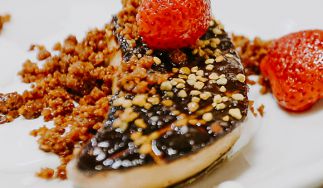 La Belle Farm Inc, located in picturesque Sullivan County, New York has been in operation since 2000. We raise / produce Organic Air-Chilled Chickens, Antibiotic Free Air-Chilled Chickens, Air Chilled Poussin, Moulard Ducks, Foie Gras, Barbarie Cross Ducks, Guinea Hen, Quail, Kosher Chickens, and...
Learn more about La Belle Farm