Capons, with tender, juicy meat that's void of gamey flavors, is generally considered more flavorful than traditional chickens. They're also full-breasted and have a high-fat content, allowing even the white meat to stay moist while cooking. Bella Bella's chickens are from their sister farms in Sullivan County, NY. To keep their birds safe and free from diseases, they're raised inside large arena-style coops. These capons enjoy a healthy corn diet that is formulated at Bella's own feed mill. Bella's tasty birds are slowly grown and raised without growth hormones or antibiotics. Bella's birds are also air-chilled to preserve cleanliness, flavor and good texture. Arrives frozen.
Product Details:

Size: LB
Country of Origin:

United States of America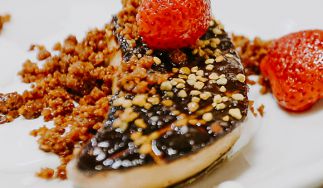 La Belle Farm Inc, located in picturesque Sullivan County, New York has been in operation since 2000. We raise / produce Organic Air-Chilled Chickens, Antibiotic Free Air-Chilled Chickens, Air Chilled Poussin, Moulard Ducks, Foie Gras, Barbarie Cross Ducks, Guinea Hen, Quail, Kosher Chickens, and...
Learn more about La Belle Farm
back
MEGAM12AC9

This product requires a 1 day lead time. Please be sure to place your order 1 day before your desired delivery date.