Sfoglini is a Brooklyn based producer of small batch, freshly extruded pastas made from the finest organic flours in America. They use traditional bronze dies which give their pasta a textured, porous surface for your sauce to cling to. They also dry at low temperatures to preserve nutrition and flavor. Spaccatelli are sometimes referred to as Strozzapreti or priests collars. They resemble a rolled-up scroll or towel, smooth and tight. These two inch strand of tubular pasta are a great substitute for ziti or macaroni in any dish and are superb with a chunky meat sauce that wraps into the curved fold.
Product Details:

Size: 6 X 1 LB
Country of Origin:

United States of America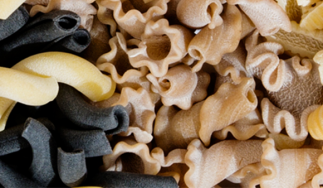 Sfoglini was born from the vision of Chef Steve Gonzalez who has been a part of some of the most formidable pasta programs in New York City: Insieme, Hearth, Roberta's, and Frankies Sputino, and former creative director Scott Ketchum who both talked for years about bringing a superior,...
Learn more about Sfoglini Pasta