Sfoglini is a Brooklyn based producer of small batch, freshly extruded pastas made from the finest organic flours in America. They use traditional bronze dies which give their pasta a textured, porous surface for your sauce to cling to. They also dry at low temperatures to preserve nutrition and flavor. Conchology, the study of marine, freshwater, and earth shells was first conducted by Italian Filippo Buonanni in 1681. Master pasta-makers translated Buonanni's scientific drawings into highly accurate and precise pasta-like seashells of all shapes and sizes. Sfoglini's small Conchiglie are delicately ribbed and ideal for brothy Italian wedding soups; a favorite with creamy cheese sauces or in a baked dish.
Product Details:

Size: 2 X 5 LB
Country of Origin:

United States of America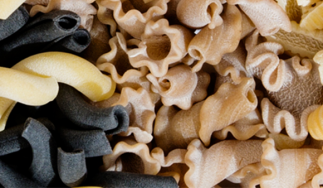 Sfoglini was born from the vision of Chef Steve Gonzalez who has been a part of some of the most formidable pasta programs in New York City: Insieme, Hearth, Roberta's, and Frankies Sputino, and former creative director Scott Ketchum who both talked for years about bringing a superior,...
Learn more about Sfoglini Pasta