More About This Product
Eva Sommaripa grows organic wild herbs, flowers and shoots on her Dartmouth, Massachusetts farm and we receive them at Baldor the day after they're cut. The leaves of her angelica are great in salads, soups, herbal mixes or wilted with other greens. Add them to fish stock or stuff in the cavity of a whole fish . They can be infused with alcohol, vinegar, syrups and stocks to make unusual drinks, sorbets, vinaigrettes and sweet or savory sauces. The stems, leaf stalks and midribs of the leaves can be crystallized and used to decorate desserts. Angelica has an exciting and powerful flavor that is worth getting acquainted with.
Product Details:

Size: 2 LB
Country of Origin:

United States of America local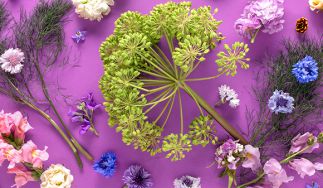 Located on the coastal plain approximately 70 miles south of Boston, Eva's Garden - like it's namesake proprietor - is one of a kind. Eva's Garden began as a kitchen garden in 1975, with the desire to grow the freshest, best tasting, and most nutritious food. When the garden...
Learn more about Eva's Garden