More About This Product
These dramatic looking spotted beans come encased in a green pod, but once shelled, reveal their trademark dappled pattern, which becomes more pronounced with age. Calypso beans can be found in shades of red and white, tan and white, or black and white, and are usually small and oval shaped. Their coloring will fade somewhat when cooked but not completely like many other vibrant shelling beans. Cooked Calypso beans will be plump with a velvety smooth texture and have a nutty, starchy, potato-like flavor.

Product Details:

Size: 6 LB
Country of Origin:

United States of America local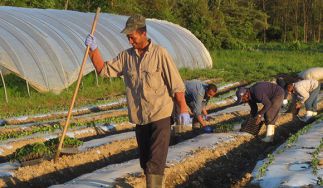 After working in the dairy division at Cornell Cooperative Extension for six years, Zaid Kurdieh and his wife Haifa decided to open their own certified organic farm in 1998. Starting with just a half acre behind their house, their vision of supporting the community has become a reality and now they...
Learn more about Norwich Meadows Farm
Product Unavailable
Select a Substitute item below
NORWICH MEADOWS FARM
Organic Calypso Fresh Shelling Beans
ZBEA8H