A vibrant orange-yellow interior and cylindrical shape make the Badger Flame a visually striking beet, but its this roots flavor that truly stands out. The Badger Flame has all the vegetal sweetness of the beet, without the polarizing earthiness. This beet has been carefully bred by Row 7 Seed Company, whose plant breeders isolated the genes responsible for the beets earthines. Over several years spent in the lab and in the field, they created this uniquely delicious variety that is mild, sweet, and delicious raw.
Product Details:

Size: 12 CT
Country of Origin:

United States of America local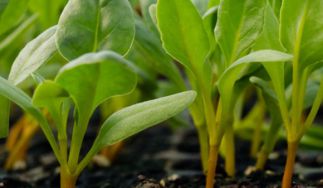 Husband and wife, George Brittenburg and Ola Creston, founded Taproot Farm in 2009 in Berks County, Pennsylvania. Farming was a natural fit for George and Ola, who have spent their entire adult lives fighting for social and environmental justice issues. So when George graduated college, he started...
Learn more about Taproot Farm
Product Unavailable
Select a Substitute item below
TAPROOT FARM
Organic Row 7 Badger Flame Beets
ZBEE9TR1