Broccoli is one of those produce items that really does taste better when grown organically. Our partners at Lancaster Farms Fresh in Lancaster Valley, PA have a reverance for their crops and their fields that translates into better flavor. Cut off the florets and set aside while you trim the stalks. Discard the very bottom and peel the rest with a paring knife. Use every bit of stalk - they are really delicious. Cut into large cubes and throw them in pot of boiling salted water. Let boil 3-4 minutes before adding the more tender florets. Then continue cooking about 3 minutes more if you prefer your florets slightly firm. Drain all and dress any way you like. The peeled stems become absolutely creamy - the best part of all!
Product Details:

Size: 20 LB
Country of Origin:

United States of America local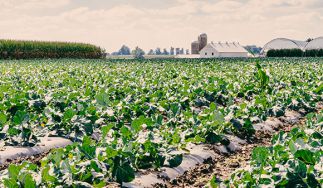 Lancaster Farm Fresh Cooperative (LFFC) is a non-profit organic farmer's cooperative of about 100 small scale farmers working 350 acres in Lancaster County, Pennsylvania. They focus on creating healthy, high quality foods from their strictly maintained and enriched soils on their family...
Learn more about Lancaster Farm Fresh