More About This Product
When you see the words Row 7 Seed before a crop, you know you're getting the ultimate in flavor. Founded by chef Dan Barber, vegetable breeder Michael Mazourek, and seedsman Matthew Goldfarb, Row 7 Seed Company is an organic seed company striving to make ingredients taste better before they ever hit a plate. Row 7 pairs chefs, plant breeders, and farmers in the development of new varieties of vegetables and grains that make an impact in the soil and at the table. Their mission? To reimagine food from the ground up. So you can expect really delicious cukes here - time to make a panzanella salad!
Product Details:

Size: 1.25 LB
Country of Origin:

United States of America local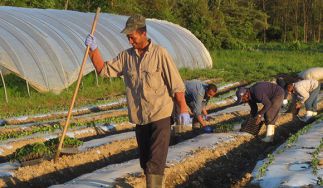 After working in the dairy division at Cornell Cooperative Extension for six years, Zaid Kurdieh and his wife Haifa decided to open their own certified organic farm in 1998. Starting with just a half acre behind their house, their vision of supporting the community has become a reality and now they...
Learn more about Norwich Meadows Farm
Product Unavailable
Select a Substitute item below
NORWICH MEADOWS FARM
Organic Row 7 7082 Cucumbers
ZCU4R