More About This Product
Norwich Meadow Farms is about 4-5 hours away from NYC, in the heart of dairy country. Owner Zaid Kurdieh grows all his crops organically, but attributes their exceptional flavor to more than organic cultivation. The special cocktail of micronutrients in his fertilizer makes his produce taste "way" different, as he puts it. His harvesters pick for flavor, not storage. Thin-skinned with creamy, moist, flavorful flesh, the organic Russian Banana Fingerling is a potato worth trying. These oblong potatoes are slightly sweet and nutty, and do not need to be peeled.
Product Details:

Size: 2 LB
Country of Origin:

United States of America local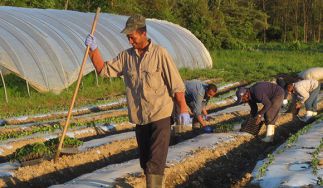 After working in the dairy division at Cornell Cooperative Extension for six years, Zaid Kurdieh and his wife Haifa decided to open their own certified organic farm in 1998. Starting with just a half acre behind their house, their vision of supporting the community has become a reality and now they...
Learn more about Norwich Meadows Farm