Bright and pungent without a bitter aftertaste, fresh horseradish is wonderful in hearty soups and stews. When you grate it, you unleash a mustard oil so intense it can clear your sinuses. Perfect for making Passover Gefilte Fish, for adding to mashed potatoes, or serving with roasted root vegetables. Make a horseradish cream by mixing fresh grated horseradish with sour cream or creme fraiche and a little salt and pepper. Serve with fried mushrooms or cauliflower, or slather as a pastrami sandwich spread.

Product Details:

Size: 3 LB
Country of Origin:

United States of America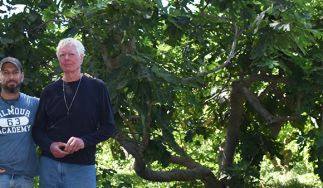 Started in 1979 by Rick and Kristie Knoll, Knoll Farms has always focused on the single strategy of sustainable farming. Based in Brentwood, CA, their weather allows for a 12-month growing season, allowing them to keep the farm in production year-round. Known for their innovative practices, the...
Learn more about Knoll Farms