Lancaster Farms Fresh is a group of about 100 small scale farmers in Lancaster, Pennsylvania practicing sustainable and/or organic farming methods.These are growers who personally walk their fields everyday and take active interest in the progress of each and every crop. Kale is a member of the cabbage family and can be tough and bitter. Remove the leaves from the thick stems to blanche and mellow. If you plan on using it raw in salads slice thinly into ribbons. Wash, spin dry and freeze for adding to smoothies. You just crumble off as much as you want and toss in the blender. Kale is one of the best leafy greens for freezing as it gets firm and crunchy when frozen.
Product Details:

Size: 24 CT
Country of Origin:

United States of America local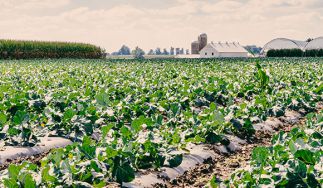 Lancaster Farm Fresh Cooperative (LFFC) is a non-profit organic farmer's cooperative of about 100 small scale farmers working 350 acres in Lancaster County, Pennsylvania. They focus on creating healthy, high quality foods from their strictly maintained and enriched soils on their family...
Learn more about Lancaster Farm Fresh