Kohlrabi is in the turnip family and has a broccoli/celery root-like flavor. Norwich Meadows in Norwich, NY cultivates these gorgeous purple orbs organically. We pick them up at the end of their harvest day, or the morning after and you can see how fresh they are by their ultra smooth skin and healthy green leaves. Peel, dice and either pan-saute until lightly browned, or roast to caramelize the edges. Kohlrabi is so crisp and juicy it is well-suited to slicing raw for crudites and salads. It's also delicious stir-fried in strips and can be simmered in soups or mashed like turnips. The broad leaves are completely edible - pull them upwards off the stem and braise or boil until tender.
Product Details:

Size: 15 CT
Country of Origin:

United States of America local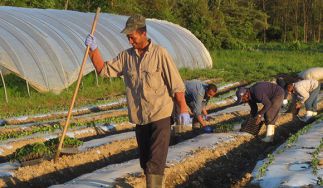 After working in the dairy division at Cornell Cooperative Extension for six years, Zaid Kurdieh and his wife Haifa decided to open their own certified organic farm in 1998. Starting with just a half acre behind their house, their vision of supporting the community has become a reality and now they...
Learn more about Norwich Meadows Farm