More About This Product
The Buena Mulata Pepper, an heirloom variety from the 1940s, is a beautiful ornamental hot pepper that ripens from vivid violet to zesty orange, then to deep red. Their heat level is hot (similar to a Cayenne), and they have a complex flavor, with a slight sweetness, when fully red. Buena Mulatas are great in a stir-fry, sauces and fresh salsas, and are great dried, then used for for seasoning stews, soups, and meats. These are grown organically by Caroline Pam and Tim Wilcox on their small farm in Sunderland, MA, and here within a day of harvest.
Product Details:

Size: 1 LB
Country of Origin:

United States of America local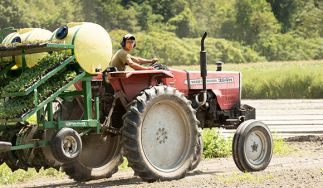 Kitchen Garden Farm is located in the heart of the Pioneer Valley, the prime agricultural region of Western Massachusetts. The farm consists of 50 acres of rich river bottom soil with fields on both sides of the Connecticut River, in Sunderland and Whately. Caroline Pam and Tim Wilcox...
Learn more about Kitchen Garden Farm
Product Unavailable
Select a Substitute item below
KITCHEN GARDEN FARM
Organic Buena Mulata Peppers
ZPE99DD